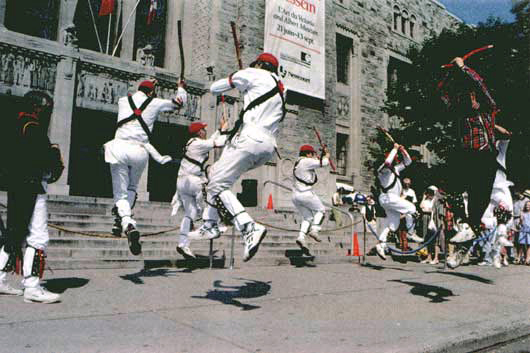 Morris dancing is a surviving tradition associated with seasonal displays, usually part of celebrations designed to celebrate the coming of spring, or the turn of the year in the depths of the gloomy winter. While the origins of the dance tradition are probably unrecoverable since the pastimes of the common folk were seldom documented, it is certain that Morris dancing has been done in England since before the 1400's.
The Toronto Morris Men have been actively perpetrating this exuberant dance form since 1985, and are now a large group of dancers and musicians, ranging in age from teens to 60+ years. We take the dancing seriously, though we could never be accused of taking ourselves seriously. Dancing is, after all, a basic expression of joy in being alive, and being here now. The men also love to sing, with a repertoire that reflects the same zest and appreciation of good company and good sustenance.
Booking
We appear regularly around the city of Toronto, at various fairs and community events in Southern Ontario, and at morris gatherings in Ontario and the eastern U.S. The Toronto Morris Men are a boisterous, exuberant, and unforgettable presence. To book us for your event, contact us at the address below.
Join us
We always welcome new dancers, or people just coming to see what we're all about. Come out and meet us, give the dancing a try, and join us for a few pints at the pub afterwards! We practice during the fall and winter on Monday nights at 8:00, at Trinity-St. Paul's United Church, 427 Bloor Street West (just west of Bloor and Spadina).
For more info, bookings, or any other reason, contact us at: squire@tfmm.ca.